SQL Connect for Oracle ERP/HCM Cloud Query and Data Extract
SQL Connect by SplashBI offers connectivity to multiple Oracle ERP/SCM/HCM Pods and lets users run ad-hoc queries, extract data to CSV or Excel. Equipped with Intellisense and a cloud database browser, SQL Connect bring productivity to your Oracle Cloud development.
GET STARTED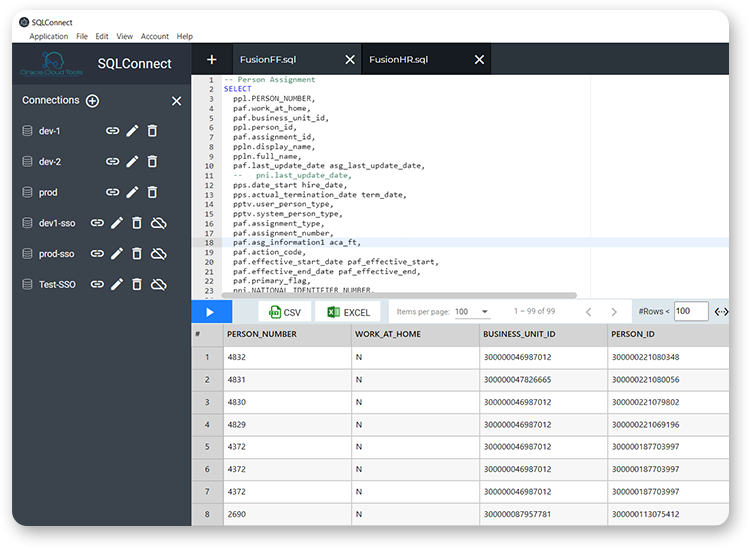 Oracle Cloud Productivity Tools
Using Oracle Cloud Tools like SQL Connect you can reduce unnecessary hassle of creating data models and reports.
Save Thousands Of
Dollars In Efficiency Gains
OracleCloudTools SQLConnect helps you run SQL Query with Oracle Cloud applications. It has an Oracle Cloud Explorer with database browser for Oracle Cloud HCM, SCM, PPM and Oracle Cloud ERP. Run SQL in Oracle ERP and HCM Cloud using SQLConnect and increase your teams' efficiency.
GET STARTED
SQL Connect Features
Most Popular
Individual
– Up to 2 Cloud ERP/HCM Connections
– SQL Formatting
– Export to CSV and Excel
– Limited Support and Updates *
– Email support *
– All core features included
– Local Sign-on only
.
$49/mo
Good Value
Enterprise
– Unlimited Cloud Connections
– Intellisense and SQL Formatting
– Export to CSV and Excel
– Database Browser
– Regular updates with Priority Beta Release
– 8×5 Email support Included
– All core features included
– Local Sign-on or SSO
Contact us for Pricing